Hello everyone
so this are the make up looks which I did recently. I think that they would be perfect for special occasions. I wasn't sure which dress will be picked navy or purpple so that's why I've done two trials. Hope you like it . Don't forget to leave a comment . Take care and have a lovely day.:)
Brown/natural make up look


These photos have been done in our studio

These photos I took by my mobile.(That's why the lightings is different from photos done in studio
)
Purple make up look


Photos done in studio by Lukasz

and by my mobile, just to see the difference.
Products used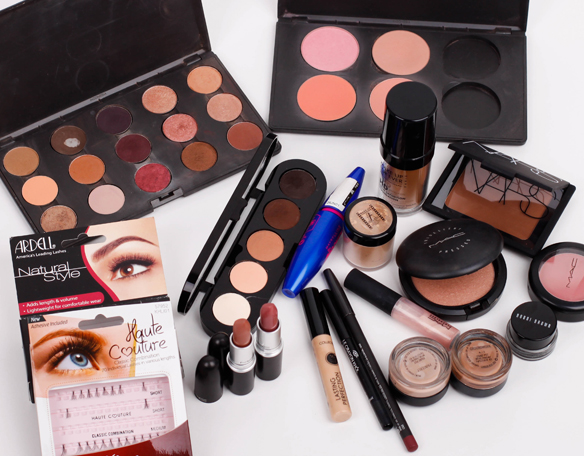 Face:
Make up Forever HD foundation in 178
Lasting perfection ultimate wear concealer collection 2000 in Medium (mixed with foundation)
Make up Atelier Loose Powder
Nars Casino bronzer
Mac Well Dresed Blush mixed with Mac Cranbery eye shadow ( I did't have the right blush shade so I had to create something ;P )and Mac Blush in Mocha for purple look
Mac Iridescent powder Belightful as highlighter
Lips:
Mac lipstick in Cherisch – purple make up and Faux – brown/natural make up
Mac lip liner in Half-Read
mac lipglass
Eyes:
As a base Mac Paint Pots Groundwork in brown/natural make up and Painterly in purple one.
Bobby Brown Black Gel Liner
All eye shadows I used in both make ups


Swatches of eye shadows used to the first make up look ( these 4 photos on the top )brown/natural
How I did the eyes:
Arena -inner corner and under brow bone
Swish Chocolate – crease to conture the area
Mythology – middle of the lower lash line towards tear duct and on the top of Bronze on eyelid
Bronze – eyelid
Any colour of dark brown ( I used the brown from Make up Atelier Eye shadow Palette) in to the crease and on the bottom lash line, crease as V shape

Swatches of eye shadows used to the second make up look
How I did the eyes:
Arena – as highlighter under brow bone
All that Glitter – in to the tear duct
Cranbery – entire eyelid and lower lash line
Mythology – on the lid on to the top of the Cranbery
Swish Chocolate – in to the crease to conture the area
Sketch – crease and lower lash line
Shadowy Lady – along the lower lash line and on the outer corner of the eye
Hi there,so here is my brand-new cross-body bag. I needed something classic so I have decided to go for a black one with white sides. The long strap has a lizard patern which makes the whole look more interesting, however this strap can be removed so the bag is very versatile and can be used in different ways.
In the last picture you can see two more colour options. I really like the blue one but ah well… another time.
Outfit with this bag is coming soon.
See you again…